D O N A T E :

World Arts Education is a 501(c)3 tax exempt non-profit organization. All donations are completely tax-deductible to the full extent of the law. Customized sponsorship opportunities are available to supporters of our year-round programs, children's filmmaking camps and educational programs at film festivals.
Our collaboration with the World Arts Film Festival supports their mission for artists and filmmakers of all ages and of all abilities, including those with special needs.
To contact our offices directly to discuss your support or sponsorship,
please call 904-568-0372.
Learn more about how you can help.
MAKE A TAX DEDUCTIBLE DONATION :
We are grateful for your interest and your generosity in any amount is appreciated.
$500 to $2,500 - Supporting film and arts events and programs for local communities.
$3,000 to $5,000 - Supporting development and production of youth film programs serving K-12 students, including those with special needs.
WORLD ARTS EDUCATION
830 A1A North, #13-363
Ponte Vedra Beach, FL 32082
www.worldartseducation.org
EIN# 80-0740173
Privacy policy: We keep your information safe. Information is used for processing your payment only. We do not share or sell any information to anyone at any time. Thank you.
Paypal is a secure online service, please click the button above to donate.
A COPY OF THE OFFICIAL REGISTRATION AND FINANCIAL INFORMATION MAY BE OBTAINED FROM THE DIVISION OF CONSUMER SERVICES BY CALLING TOLL-FREE WITHIN THE STATE OF FLORIDA (800) 435-7352. REGISTRATION DOES NOT IMPLY ENDORSEMENT, APPROVAL, OR RECOMMENDATION BY THE STATE OF FLORIDA. THE WORLD ARTS EDUCATION, INC. REGISTRATION NUMBER ISSUED BY THE FLORIDA DEPARTMENT OF AGRICULTURE DIVISION OF CONSUMER SERVICES UNDER CHAPTER 496 OF THE FLORIDA STATUTES IS CH35189.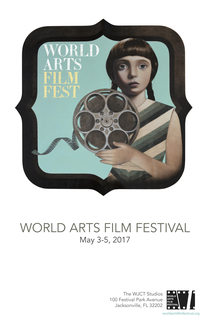 REQUEST A 2018 FESTIVAL POSTER:
(free with donation while supplies last)
Thank you for your contribution to 
benefit World Arts Education
"Girl and Film"
World Arts Film Festival 
Original Artwork By: Sean Mahan
Paper: 100# Text Gloss
Please email us with any questions or requests, we will contact you directly:
Thank you for your support!