Meet The Artist
World Arts Film Festival 2014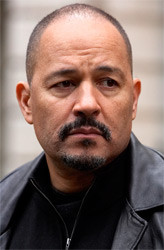 Clark Johnson
Actor, Director
Clark Johnson started in film doing special effects, including David Cronenberg's The Dead Zone. This behind-the-scenes work often served as a "backup" for him during the early stages of his acting career. He began performing in feature films in 1981, landing roles in the movies Killing 'em Softly, Colors, Wild Thing, Adventures in Babysitting, and Nowhere to Hide. 
Homicide: Life on the Street 
In 1993, Johnson became part of the original cast of the television series Homicide: Life on the Street playing Detective Meldrick Lewis for all seven seasons and the reunion movie, as well as directing several episodes. Johnson made the transition to director with the season four episode "Map of the Heart" and also directed several other episodes. David Simon, the author of the non-fiction book Homicide was based upon, as well as a writer and producer for the series, commented that the transition from actor to director was made easy by Johnson's familiarity with the show and that he was one of the better directors in terms of keeping the tone of the show consistent.
The Wire
Johnson worked on The Wire, reuniting with writer David Simon. Johnson directed the pilot episode "The Target", second episode, fifth episode and series finale. He appeared as Gus Haynes, the fictional, principled city desk editor of the Baltimore Sun in the fifth and final season.
Directing
Johnson's other directing credits include the big-screen releases The Sentinel (2006) and S.W.A.T. (2003), and episodes of Third Watch and The Shield as well as the HBO original production Boycott (2001), a project which he helmed and in which he also acted. He also directed the first episodes of Seasons 1 and 2 of the 2005 mini-series Sleeper Cell.
Johnson directed the pilot episode of the FX drama Lights Out, a series focused on a retired heavyweight boxing champion and starring The Wire cast members Pablo Schreiber and Reg E. Cathey. Johnson's selected filmography and additional credits are available on IMDB. 
Clark Johnson joins World Arts Film Festival as Chair of the Advisory Board. He is currently shooting in Africa and cannot join us at the Festival as anticipated. Clark has generously offered to support our Student Award Winner at a Mentor's Breakfast in New York or Los Angeles sometime this year! Good luck to the entrants.