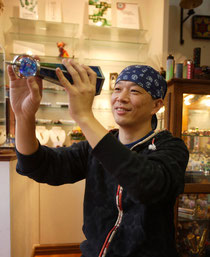 Koji Yamami 
Kaleidoscope Awards Artist
for World Arts Film Festival
Koji Yamami is one of the pioneer Japanese kaleidoscope artists.  He has attended Brewster Kaleidoscope Society's conventions since 1995 and has shown his works every year.
He won the People's Choice Award in 2001 and 2003 for his one of a kind kaleidoscopes.
His first encounter with modern kaleidoscopes was in LA while he was studying design and several art subjects in the college. 
He was shocked at its infinite images.
After coming back to Tokyo, he started to make kaleidoscopes on his own. He mainly creates stained glass kaleidoscopes especially of limited editions or one of a kind scopes, however he is very positive in using other media for kaleidoscopes.
He is collaborating with Arita porcelain artisans in producing kaleidoscopes and teleidoscopes, which proves to be a nice combination of Japanese traditional craft and modern kaleidoscope art. He also helps a Japanese aluminum maker for aluminum scopes. Koji is also very active in promoting the wonderful world of kaleidoscopes and has classes teaching how to make original stained glass kaleidoscopes. Koji's class was broadcast through the national television network.
"Man-ge-kyo" is a Japanese word for kaleidoscopes. It literally means millions of flowers in mirrors. Visit Kaleidoscopes Japan to learn more.
Kaleidoscope Art by Koji Yamami
Available to view at the Main Library Conference Center 
Festival Shop :: 303 N. Laura St. Call 904-249-9333