Meet The Artist
World Arts Film Festival 2014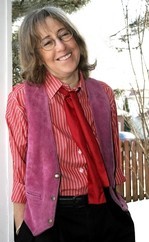 Lois Siegel
Film Director, Writer, Still Photographer, Educator, Fiddler
Lois Siegel is a freelance film director, writer, and photographer. She also plays fiddle, bodhran and spoons with The Lyon Street Celtic Band, Celtic North, and Sens Unique. Naturally, she won't quit her day job teaching
 Video Production at the University of Ottawa, 
Department of Communication. Siegel's film STUNT PEOPLE (featuring the Fournier family) won a 1990 Genie Award: Best Short Documentary from the Academy of Canadian Cinema and Television. Her film Baseball Girls is featured at the National Film Board of Canada online.
Lois Siegel will conduct an experimental animation workshop at the World Arts Film Festival which may end up in the Guinness Book of World Records! She will also be a featured speaker with the screening of her photography and a film, STUNT PEOPLE.