Meet The Artist
World Arts Film Festival 2014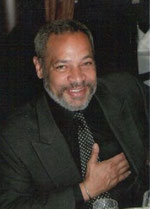 Director/Writer Peter Allen started in the film industry shooting music videos and working with some of the top names in the industry. His first music video was for the Grammy Award-Winning Legendary Recording Artist Stevie Wonder – "Ribbon In The Sky". From that initial effort, Allen went on to direct breakthrough videos for prominent talent including Kenny "Baby Face" Edmonds, Rick James, The Whispers, Shalamar, Klymaxx, Zhane, Mtume, Mikki Howard, and hip-hop artist Chubb Rock to name just a few of the music artists that he has directed.
Allen studied Film and Photography at the Maryland Institute College of Art starting his arts career as a freelance photographer in the Baltimore-Washington DC area for several years. An offer from the Kansas City Star, brought him to the Mid-West. Allen joined this leading newspaper as a staff photo-journalist covering the news for a five-state wide readership.
Moving to Los Angeles, California, Allen became the Creative Director of New Genesis Productions, an animation company producing television commercials, animated effects for television, and music concert films for PBS's "Cosmos," Levi's Jeans, Motown Records, Parliament-Funkadelics, and The Gap Band. Allen also began a bicoastal career directing more music-based projects, producing over 150 videos during the next 20 years.
Allen added feature film directing to his credits with the 2002 release of "Book of Swords" with actor Ho-Sung Pak of Mortal Kombat fame, a martial arts cult-styled adventure. Choosing to focus on screenwriting, Allen then worked on several feature projects including the energetic teen dance film "You Got Served" in 2004. Allen then hit worldwide with the film "Takers"– the Number #1 rated feature for its debut weekend box-office (2010 Screen Gems). Allen's fast-paced drama heist film script was produced by Will Packer, trending internationally with a strong ensemble of characters played by a hot cast of actors – Idris Alba, Chris Brown, Micheal Ealy, T.I. Harris, Zoe Saldana, Hayden Christensen, Paul Walker and Matt Dillon.
A well-earned career as a writing professional has put Allen in front of recent audiences at the Roxbury International Film Festival in Boston. Allen is the author of an upcoming book about World War II and has several new feature writing projects in development. Allen resides in Los Angeles.