Meet The Artist
World Arts Film Festival 2014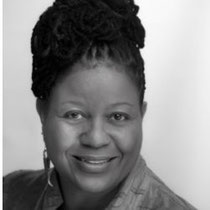 Yvette Hyater-Adams runs Narratives for Change, a business using storytelling to cultivate and preserve women's personal and leadership narratives. She writes women's personal and business histories, leads creative writing workshops, and uses a narrative-storytelling approach to develop leaders. 

"…If you don't look back, the future never happens," Rita Dove writes in her poem Dawn Revisited. Yvette advocates for every woman to practice reflective writing and recognize the wisdom in her stories. A women owning her creative voice is poised to lead the kind of transformative change needed in our world. Stories change lives and communities.

Yvette's executive career crosses sectors in retail, financial services, and as an entrepreneur of several businesses. While at CoreStates Bank (Wells Fargo) Yvette spun off a joint-venture enterprise, Prime Directive Consulting Group, where she served as President and CEO. For 15 years, the firm delivered products and services preparing leaders to drive organizational change in diversity, leadership, and infrastructure design. Yvette provided coaching to C-suite clientele and was rainmaker for the business.

Parallel with her business career, Yvette is a teaching-artist of poetry, memoir and essay. She writes articles and poems in business and artistic publications. Current work: a haiku in Sonia Sanchez's anthology, Peace is a Haiku Song (2013); completing a memoir, Becoming Herself: A Woman Emerging As Leader of Her Whole Life (2014), and upcoming chapter, Transformative Narratives: Women's Self-Leadership Milieu as a Pathway for Social Change, in Changing the World With Words: A Transformative Language Arts Reader (2014). 

Yvette earned a Graduate Certificate in Creative Writing at the University of Denver, an M.A in Transformative Language Arts at Goddard College, and a B.S. in Occupational Education & Workforce Training at Southern Illinois University at Carbondale.

Yvette is represented by Penumbra Literary Agency in New York, NY.
Narratives for Change