Meet The Artist
World Arts Film Festival 2015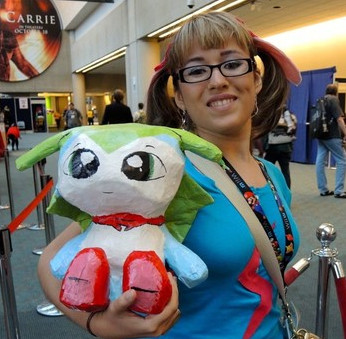 Dani Bowman is now 19 years old, a college student with autism and a love of animation, illustration, and creating fun entertainment for children of all ages. Dani founded Powerlight Studios at age 11, and has been working professionally since age 14, partnering with Joey Travolta, and teaching animation to others with autism at his summer camp program, as well as, a new series of Animation Workshops with World Arts Film Festival now available for booking. Dani has a full slate of college classes and is enjoying it! Dani aspires to be the Temple Grandin of her generation, working to change the world's perception of autism and demonstrate all of the special abilities that people with autism have while striving for acceptance and integration within society and employing others with ASD at Powerlight Studios. 
Dani's life story was featured by RethinkingAutism.com in the animated video "Believe It: The Dani Bowman Story." "Believe it", produced by Powerlight Studios, is an inspirational video that tells the story of the founding of Powerlight Studios and was produced with the assistance of autistic storyboard artist Justin Canha, autistic singer and songwriter Talina Toscano, voiced by Dani Bowman with voice over production and tag line by autistic actress Tammy Klein.
Dani has worked with individuals with Autism at OCALI, the Ohio Center for Autism and Low Incidence as part of OCALI's mission to provide employable skills to individuals on the autism spectrum. Dani has also worked with Joey Travolta and his Inclusion Films group, teaching animation at his CA-based programs that teach practical and employable skills to members of the special needs community. Dani animated titles for Inclusion Films' class projects such as "Mia's Make-­‐Up Corner", an anti-­‐bullying campaign featured on CBS2 in Los Angeles, and "The Cave" by Arrest My Sister, a band fronted by Scott Siegel, who also has autism and is a student at Inclusion Films. Due to her close working relationship with Toon Boom Animation, a major animation software provider, Toon Boom helped underwrite Dani's travel expenses to travel to camps in Jacksonville, FL, Edgewood Cliffs, NJ, and Detroit, MI, San Diego and San Francisco. At the camps, she taught animation to over 250 kids with autism, inspiring others on the spectrum to follow their dreams as well. www.Powerlight-­‐Studios.com. Dani's Animation Workshops are now available through World Arts Film Festival's educational programs. 
In January 2012, Janro Imaging Laboratories selected Dani to be one of three sponsored artists for their new Freehand Stereoscopic Animation System, SANDDE providing equipment and technology to Powerlight Studios. The first project to utilize SANDDE is "Hanna Lost her Smile" to be voiced by Stella Ritter, a friend of Dani's and the youngest daughter of actor John Ritter, and storyboarded by fellow autistic artist Justin Cahna.
Dani's company, Powerlight Studios, has several collaborative programs with like‐minded organizations that work to develop, support and nurture others on the Autism Spectrum with the goal of finding and celebrating others and their skills and talents. These programs showcase the various talents in the spectrum through art exhibits, showcases, readings, films and entertainment events.
Festival Shorts at World Arts Film Festival 2015

Airburst: Soda of Doom
Pelican Pete
Festival Short at World Arts Film Festival 2014
Hannah Lost Her Smile
Festival Short at World Arts Film Festival 2013

The Namazu
Commercial Credits
Dani has been working professionally as an animator and illustrator since age 14, starting with the music video "The Cave" for the band Arrest My Sister produced by Joey Travolta. Since then, she has illustrated two anti-­‐bullying books for Picalata Press with the second title "Richie and Goliath" being carried at Barnes and Noble, illustrated "Rajalika Speak" about a talking horse, and is currently working on "Really, Really" an autism awareness picture book written by published autistic poet and writer Gretchen Leary.
Dani has also won several awards for the autism awareness short "Eeya's Story" and completed several commercial projects including titles for "Power 1490, the Birth and Death of a Hip-­‐Hop Radio Station in Tuscon, AZ", and "Vegan with Joy", a vegan cooking show available on iTunes. Dani animated the opening titles for "Under the Dog House", a web series produced by Bruce Nachsin that has over 80,000 hits on Youtube.
Employing others with ASD has been a dream of Dani's since founding Powerlight Studios at age 11. With her expanding commercial work, Dani is now in a position to hire others to help her with her projects, and is now training her first employee in Los Angeles, 18 year old Conner Walsh, and mentoring two others with autism, 16 year old Luke Virgin from Ann Arbor, MI, one of her students from the Detroit OU Cares Camp, and Justin Canha, a 22 year old artist featured in the New York Times
In 2012, Dani was selected as one of 16 Frieberg Fellows scholar for the Loyola Marymount University's Summer Creative Workshop. During the two week resident program the 16 fellows produced two live action and two animated short films, from script to screening.