PROGRAMS & UPCOMING EVENTS

World Arts Education creates inclusive arts & film programs for all ages. Sponsorships fund annual film festival & year-round educational workshops.
School programs:
STUDENT FILM FESTIVAL AWARDS SUPPORT AND ENCOURAGE EXCELLENCE IN FILMMAKING
The 2016 World Arts Film Festival's Student Kaleidoscope Awards are presented to student films selected from those entered in the competitions conducted by the festival. Film students from all over the world may compete for the festival's awards with student films being judged in every festival category. Through the Student Kaleidoscope Awards, the Festival recognizes, encourages and mentors new filmmakers. 
The World Arts Film Festival includes categories in:
Short Film Narrative Fiction, Documentary, Animation, New Media (includes Music Video, Public Service, Mobile, and Webisodes), Experimental, and Student Programs.

:: World Arts Vocational Workshops ::
Internships & Volunteer Opportunities, student film & tv opportunities based in Jacksonville, Florida. Working with industry professionals and educators to provide support to World Arts Education programs. We are very grateful to this project sponsor since 2014: The HEAL Foundation
Congratulations Dani great event! See you at the next World Arts Film Festival! For More Information about Dani's Animation Workshops, please contact program producer, Karen Sadler, to arrange an animation workshop with Dani Bowman for your community! 

Student ID, a student film & tv production workshop. Working with industry professionals and educators to provide support for students to produce their own programming for local broadcast. Features student filmmakers, interviews and short films. 
WHAT'S NEW:  Student ID workshops are available to create film and media studies programs. Please contact us for details.
:: World Arts Media: Interview Sessions with Students, Filmmakers and Industry Guests
STUDENT FILMS 2014 - WORLD ARTS - ON LOCATION
Thanks to Douglas Anderson Cinematic Arts students for working with World Arts Education to create this four day series of films about One Spark 2014 event in Jacksonville, FL.
Young Directors:
Meet Gabrielle Bautista. Learn more about her student films.
Gabrielle Part 2: Talking with Director/Producer Gabrielle Bautista
Meet Director Chase Finn. Learn about the What's For Lunch Project featured during World Arts Film Festival 2013
Chase Question 1: Talking with Director Chase Finn
News from The Road To The Red Carpet . . .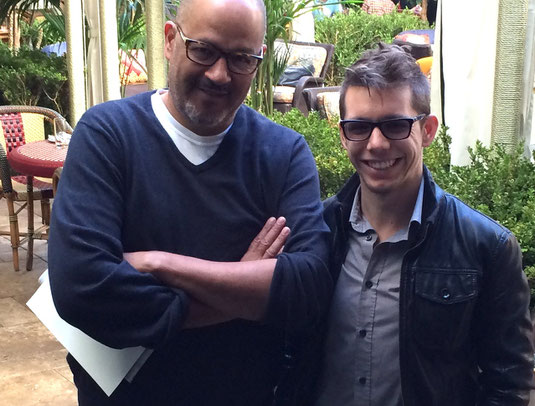 Chase Finn, World Arts Film Festival's Kaleidoscope Award Winner for Student Film 2013 at Chateau Marmont, Hollywood CA. this week with Film Actor and Director, Clark Johnson, Advisory Board Chairman, World Arts Film Festival. (11/2013)
:: More About Programs ::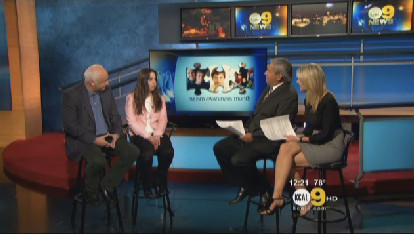 Photo Credit: Joey Travolta and Mia Mantegna are interviewed on CBS News 9 Los Angeles
Year-round programs
& workshops are available for all ages and for all abilities. Want to make more programs like these possible for your school and community?
Ask about Early Bird Tickets for the World Arts Film Festival in 2018! Great for fundraisers!
When you support our fundraising events, you help make year-round inclusive programs in film & the arts available right in your own community. Thank you!
"Our task is to educate their (our students) whole being so they can face the future. We may not see the future, but they will and our job is to help them make something of it."
-Sir Ken Robinson
"It's about who we are, where we've been, where we're going, and who we want to be." -ITVS